Bunion Surgery Battery Park, NY
Let Our Team Resolve Your Painful Condition
If you are suffering from a painful bunion and haven't had success with conservative treatment methods, our surgeons offer bunion treatment near Battery Park, NY, to relieve your pain. We specialize in both traditional bunion surgery and minimally invasive bunion surgery, where a small incision is made, and the toe joint is straightened.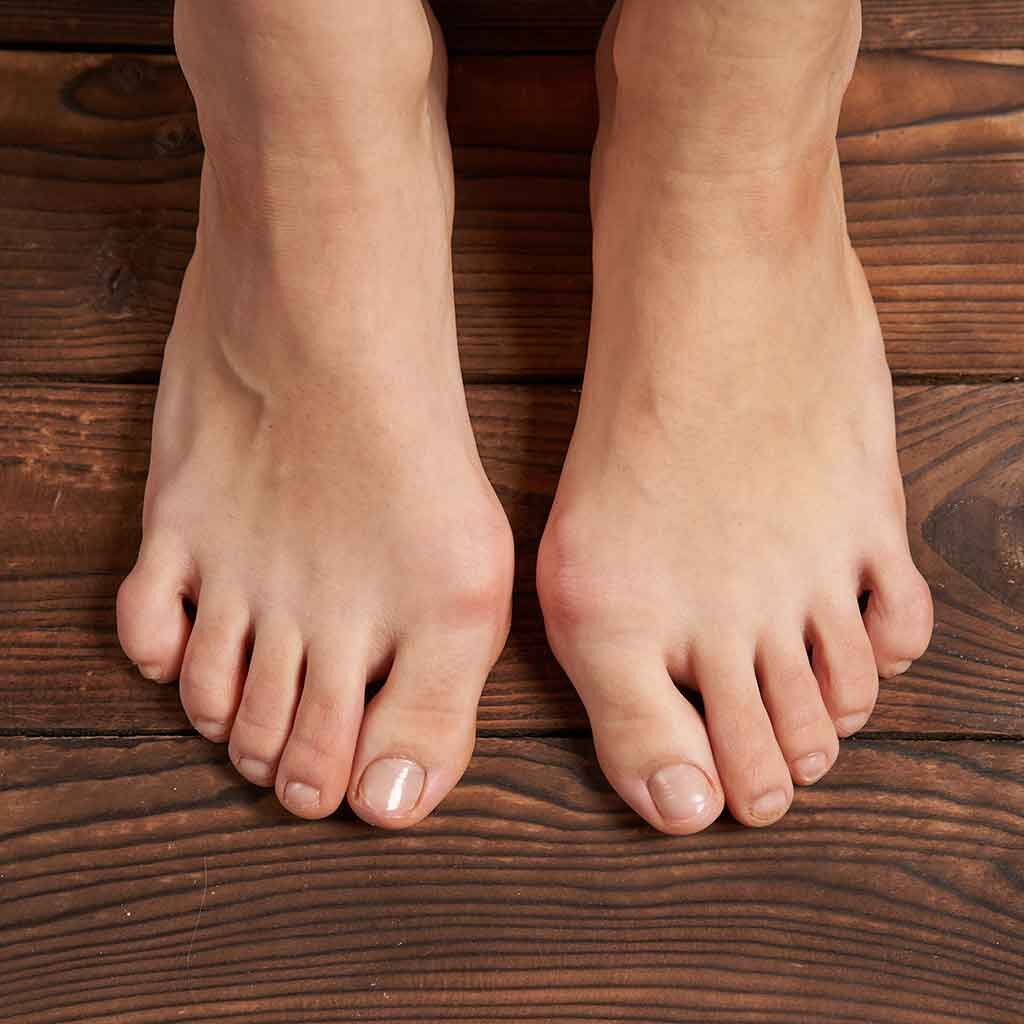 Causes of Bunions
A bunion (also known as hallux valgus) is a bony prominence caused by a shift in the position of the first metatarsal. Bunions can be attributed to genetics, arthritis, abnormal foot function, ill-fitting shoes, or a foot injury. The symptoms of bunions include:
Swelling & pain around your big toe joint
A bump or thickened skin on the outside of the base of your big toe
Overlapping toes
Corns or calluses (generally where the toes overlap)
Persistent or intermittent pain
Restricted movement or stiffness of your big toe
If you experience these symptoms or chronic bunion pain that disturbs your mobility, contact us to see if you are a candidate for bunion surgery.
Seeking Traditional Bunion Surgery
If you find yourself feeling nervous about seeking treatment for your bunions because you've heard that the surgery is painful or ineffective, you're certainly not alone. You should only trust an expert surgeon to perform bunion surgery successfully. Unfortunately, the perception that bunion surgery doesn't work (or even worsens the pain) comes from people who have had a poor surgery experience or had surgery performed by a doctor who wasn't an expert.
Thankfully, our doctors have extensive experience performing effective bunion surgery and can help you get the pain relief you need!
How Traditional Bunion Surgery Works
Bunion surgery is always specific to your unique case, but it is typically performed in an outpatient setting under sedation and takes about an hour. An anesthetic that affects only your foot is commonly used for bunion surgery, though a sedative may also be used. Some common bunion surgeries include:
Osteotomy — making small cuts in the bones & moving the bones into a normal position
Exostectomy — removal of part of the foot that is bulging out
Realignment of the ligaments around the big toe joint
Insertion of an implant or artificial joint
Fusion of the big toe joint
Small screws will hold your toe in place. Our expert will determine which type of surgery will most effectively relieve your pain and restore normal alignment to the joint.
Minimally Invasive Bunion Surgery
Minimally invasive bunion surgery is a surgical procedure performed through small incisions to correct a bunion deformity. This surgery results in less scar tissue, quicker healing times, and less joint stiffness than traditional bunion surgery. During this procedure, our surgeon makes a small incision, cuts the metatarsal bone, and straightens it out. Then, he will fix devices to maintain the toe's new position.
Our surgeon will advise which fixation is correct for you during your consultation.
Aftercare
After your procedure, we will provide you with a special boot or cast so you can walk while allowing your toe to heal properly. You will return to the office for aftercare, per our expert's recommendations. After minimally invasive procedures, most patients report that they have minimal pain and return to activity quickly.
If you have two bunions that need to be corrected, they will be treated at the same time — something that many other surgeons won't do. With this advanced level of treatment, you will only have to go through surgery and recovery once instead of two separate times, which reduces stress and gets you back on your feet faster.
We can provide even more information during your visit and help you decide if this surgery is right for you. Let us help you get back on your feet today!
Contact Us for Bunion Treatment Near Battery Park, NY, Today
To experience our award-winning podiatric care, schedule your New Patient Consultation today by calling (646) 657-0070. You may also click here for our convenient online form. Your appointment includes the following:
Discuss Your Goals
Have All Your Questions Answered
Complete Examination
Custom Treatment Options
During your appointment, we will take the time to answer all your questions about our advanced treatments, cutting-edge technology, and anything else you may want to know about us!