Founder Dr. Nick Argerakis
Experience Compassionate Care & Extensive Expertise
I'm Dr. Nick Argerakis, known to my patients as "Dr. Nick," and I'm a New York City, NY, foot surgeon who is Board Certified. I'm also fellowship trained in foot and ankle reconstructive surgery. I specialize in reconstructive foot and ankle surgery with a focus on revision surgery, as well as the reconstruction of deformities such as bunions, hammertoes, and flat feet. My primary goals when helping patients are to improve their quality of life, provide aesthetic and attractive results, and help them quickly return to their regular daily routine.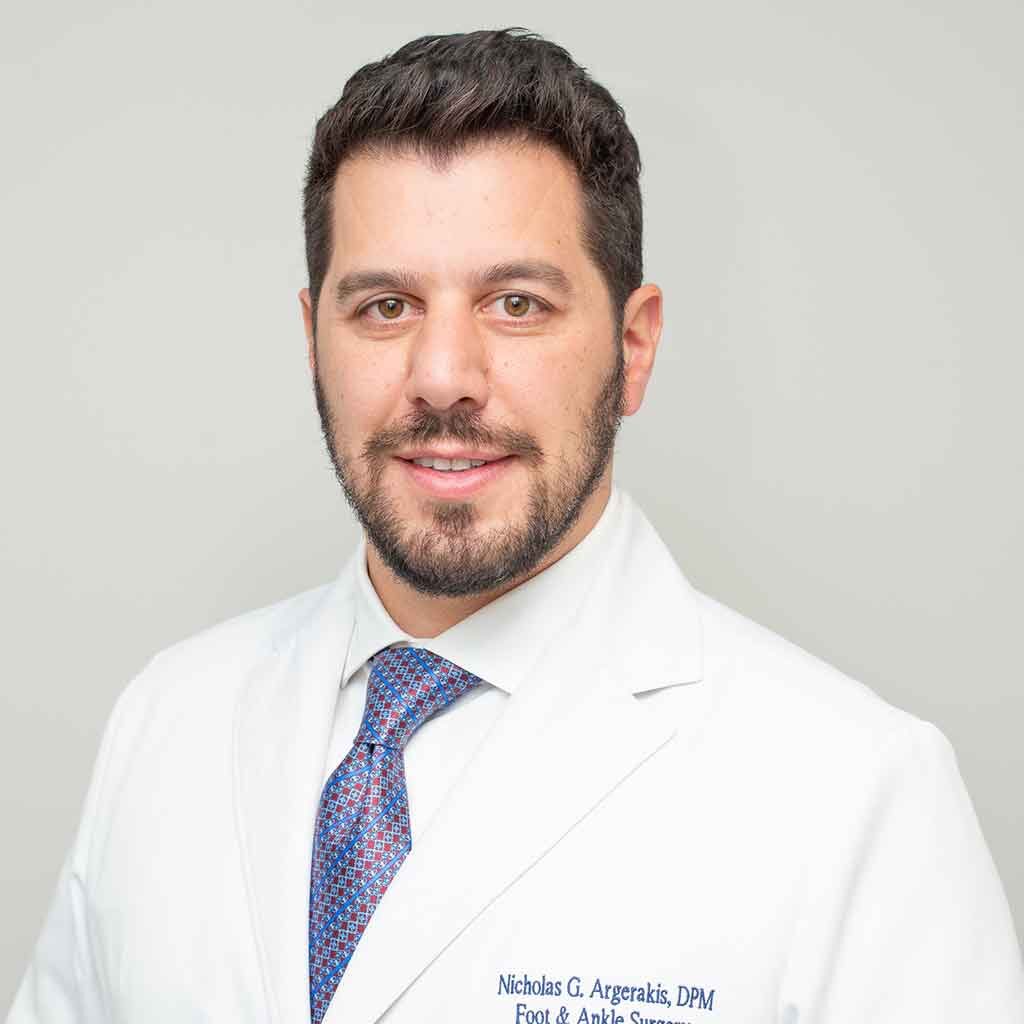 I was raised in New York City and attended Horace Mann High School. I spent my undergraduate years receiving dual degrees at Muhlenberg College before continuing on to the New York College of Podiatric Medicine. While there, I completed a podiatric surgical residency, serving as chief resident in my final year. I then went on to the prestigious Weil Foot, Ankle & Orthopedic Institute in Chicago, IL, where I completed a fellowship in advanced foot & ankle reconstructive surgery.
Currently, I lecture nationally and internationally on advanced surgical techniques in treating various foot and ankle deformities, such as bunions and hammertoes (specifically second toe hammertoe and plantar plate repair). I also publish my outcomes in foot and ankle surgery.
I hold a medical staff position in the Department of Orthopedic & Podiatric Surgery at Lenox Hill Hospital. I was also a clinical faculty member in the Department of Surgical Sciences at the New York College of Podiatric Medicine from 2013-2018, where I am extensively involved in the education and training of students and residents.
Meet New York City, NY, Foot Surgeon Dr. Nick Argerakis – Schedule Your Appointment Today
To experience our award-winning podiatric care, schedule your New Patient Consultation today by calling (646) 657-0070. You may also click here for our convenient online form. Your appointment includes the following:
Discuss Your Goals
Have All Your Questions Answered
Complete Examination
Custom Treatment Options
During your appointment, we will take the time to answer all your questions about our advanced treatments, cutting-edge technology, and anything else you may want to know about us!