Advanced Technology
Experience Cutting-Edge Technology at Our Office
At Silverstone Podiatry, we are committed to offering the highest level of care and the latest treatment options using the most advanced technology available. When you visit our New York City, NY, foot specialists for your foot or ankle pain, you can look forward to compassionate care using the cutting-edge technology below.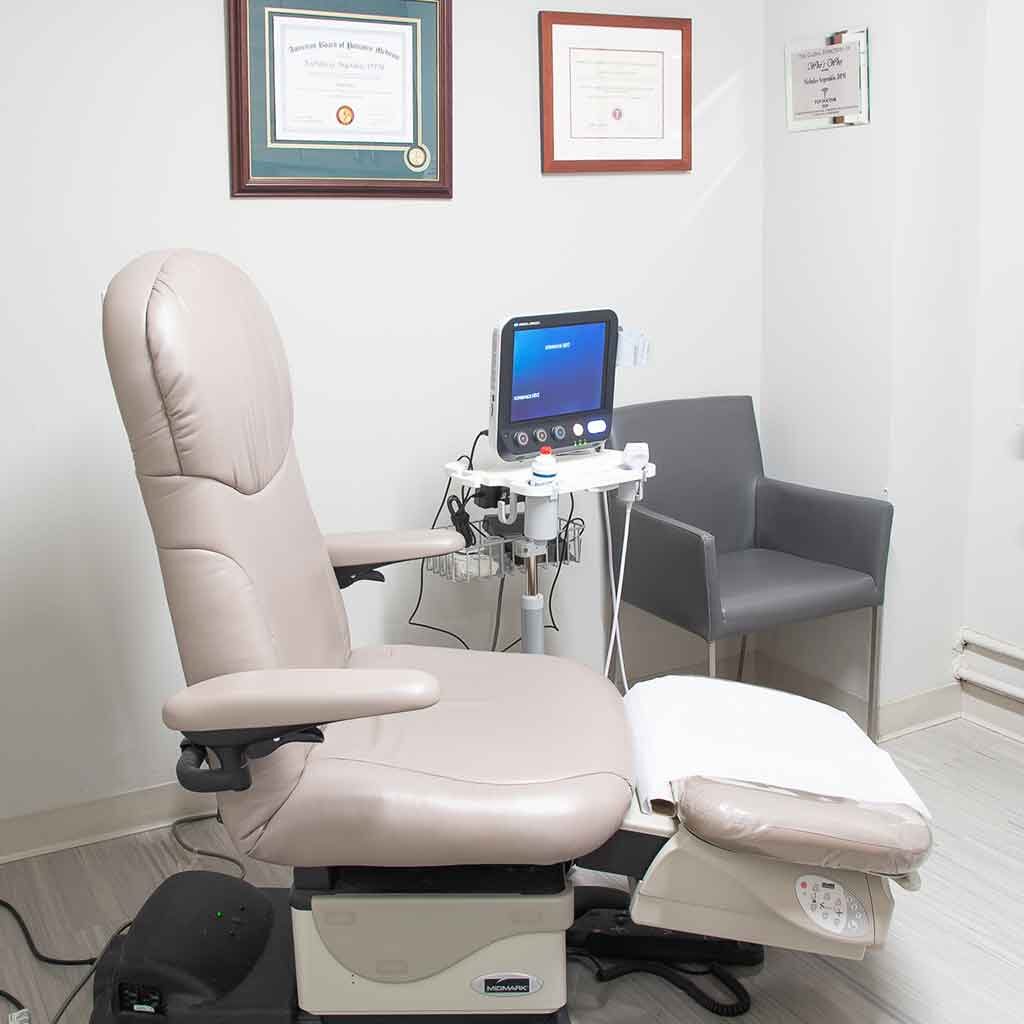 Digital X-Rays
Digital X-rays allow us to diagnose issues you may have with the bones or joints of your feet or ankles. These types of issues include heel spurs, hammertoes, bunions, and a number of other foot problems. Our digital X-ray machine helps us to quickly diagnose and treat your foot or ankle condition because the images are immediately available to us on a computer screen. Your treatment can then be carried out faster and more accurately if you have an issue with the joints or bones in your feet and ankles.
Diagnostic Ultrasound
Diagnostic ultrasound is used to help diagnose foot and ankle conditions that an X-ray would miss, like soft tissue conditions. Most people are familiar with this type of technology because it's used in an OB/GYN office every day. It helps identify conditions such as Achilles tendonitis and plantar fasciitis, and it also helps us guide injections for more accurate treatment when needed. Diagnostic ultrasound is an excellent tool to help identify your foot or ankle conditions at about one-tenth the cost of an MRI.
Stem Cell Therapy
Do you know that we can use stem cells from your body to cure many classic foot and ankle injuries? In stem cell therapy, we take stem cells from your bone marrow and use them to speed up the natural healing process of damaged joints, ligaments, muscles, or tendons. Top athletes and trainers prefer this non-invasive treatment because it decreases foot and ankle injury recovery time. If you're tired of suffering from Achilles tendonitis, plantar fasciitis, or other chronic foot injuries, we can use stem cell therapy to promote healing in the area that's damaged. The simple injections we use give you a focused flow of concentrated stem cells that naturally and gently enhance the healing process.
Shockwave Therapy
Shockwave therapy, or sound wave therapy, is used primarily to treat soft tissue conditions like plantar fasciitis or Achilles tendonitis. If you have one of these conditions and our foot specialist recommends this particular treatment, you'll be happy to know that it is effective about 80% of the time. It's an efficient alternative to surgery, as no anesthesia is needed and you can go about your normal daily activities after this outpatient treatment. If you receive shockwave therapy, you can expect treatment to be fast, too, so that you can get back to your life quickly.
Contact Our New York City, NY, Foot Specialists for Relief From Your Foot or Ankle Pain Today
To experience our award-winning podiatric care, schedule your New Patient Consultation today by calling (646) 657-0070. You may also click here for our convenient online form. Your appointment includes the following:
Discuss Your Goals
Have All Your Questions Answered
Complete Examination
Custom Treatment Options
During your appointment, we will take the time to answer all your questions about our advanced treatments, cutting-edge technology, and anything else you may want to know about us!