Ankle Fractures Battery Park, NY
Expert Care to Heal Your Condition
If you've suffered an injury to your ankle and are experiencing pain, swelling, redness, or bruising, you may have fractured your ankle. Dr. Nick and Dr. Bernatsky are highly trained and experienced specialists for treating ankle fractures near Battery Park, NY. During your consultation, we can help determine whether your injury is an ankle sprain or ankle fracture and recommend the best course of action to ensure that your ankle heals without complications.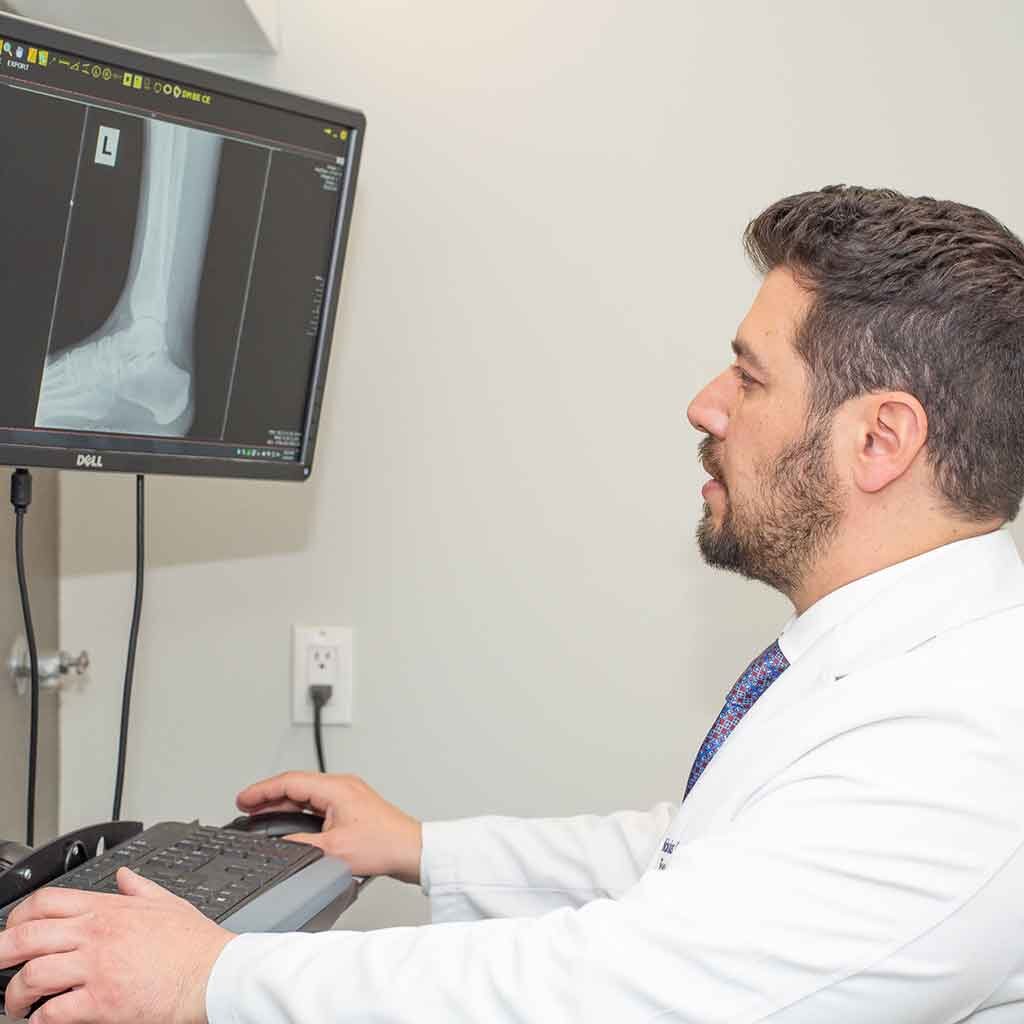 Ankle Fracture Symptoms
An ankle fracture may cause some or all of the following signs and symptoms:
Throbbing pain
Pain and difficulty walking on the affected foot
Bruising of the ankle
Swelling of the ankle
Ankle deformity
Frequently, fractured or broken ankles may be mistaken for a simple ankle sprain, which leads to improper healing, poor treatment outcomes, and ankle instability. It's crucial that you visit our office if you injure your ankle — we can determine if you have a sprain or a fracture and recommend the proper treatment plan to get you back on your feet.
Causes of Fractures
Ankle fractures occur when you push your ankle beyond its limits and damage the ankle joint. Fractures can occur simultaneously with ankle sprains (damaged ligaments and tendons in the ankle). Some common scenarios that cause ankle fractures include:
Jumping from a high level
Overextending the joint
Twisting the ankle, tripping, or falling
Do You Need Surgery?
While simple fractures can often be treated without surgery, if you have a serious injury, surgery may be necessary to ensure proper healing and function of the ankle joint. During your initial examination, we will thoroughly discuss your treatment options and educate you to decide upon the best course of treatment for your unique case.
Contact Our Experts for Treating Ankle Fractures Near Battery Park, NY
To experience our award-winning podiatric care, schedule your New Patient Consultation today by calling (646) 657-0070. You may also click here for our convenient online form. Your appointment includes the following:
Discuss Your Goals
Have All Your Questions Answered
Complete Examination
Custom Treatment Options
During your appointment, we will take the time to answer all your questions about our advanced treatments, cutting-edge technology, and anything else you may want to know about us!